Today I'm linking up with Lauren at From My Grey Desk for High Five for Friday!


Here are my favorite things from this week!
Instagram for Android!
I love taking pictures, and what could be better than having the BEST phone app now for my droid? I've been playing with the app lately and I'm already in love. My username is KBHokie. Follow me!
My Favorite Necklace
This week,
That's What We Said
posted a DIY necklace tutorial to take an old necklace and make a new one with ribbon and a flower. I made one a while back and love it. Check out their tutorial!
Delicious Smoothie
Another one of my favorite blogs,
Lovely Little Things
posted a peanut butter banana smoothie this week. I decided to try it (even though I'm not even a big peanut butter fan) and I love it! It kept me full for hours and tasted like dessert (and we all know
I love dessert
!). I might add a little bit of Nutella next time for something different. Definitely a recipe to repeat!
Mug Swap!
I love coffee mugs. I even got them as presents when I was born. (Weird, right?) Susan over at
Suzel Says
is doing a Mug Swap instead of a regular "link-up". If you want to sign up, just head over
here
and sign up! She'll pair you with another blogger and you'll send each other mugs related to their blog personality! Love this idea.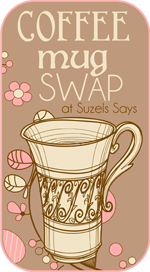 Follow Friday
I love
Twitter
(sorry
Facebook
, but it's true). Hollie at
Hollie Takes Notes
does a monthly Follow Friday link-up where you can find new blogs to follow and add yourself to get some new followers. Such a great idea!